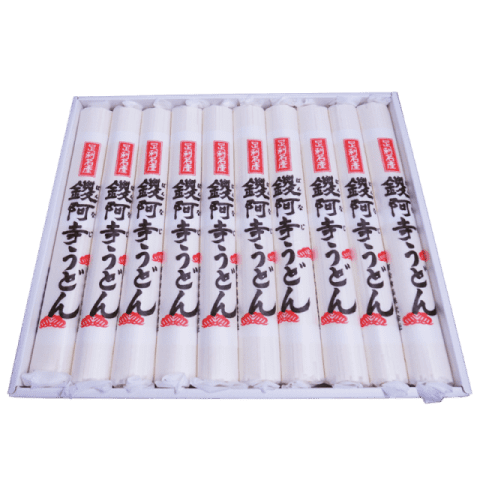 Size of Package(6 bunch) L270mm x W200mm x H35mm / 1,400g
Size of Package(10 bunch) L310mm x W270mm x H35mm / 2,200g
Size of Piece L255mm x W30mm x H28mm / 200g
This product is made from first-quality flour and delicious water of Ashikaga City.
We have confidence of this noodle that we took the name Bannaji from its history. The House of Ashikaga ascend to the House of Minamoto = (Genji = derivative of the House of Emperor).
Long time ago, Bannaji had been their castle for generations. But now, it is a National Treasure that attracts lots of visitors.
You can enjoy this Udon with hot soup, with chilled soup or boilled it in pan. This is convenient for you. Please try our Bannaji Udon.
| | |
| --- | --- |
| | 200g |
| | 6bags/10bags/20bags |
| | 18months |
| | 4906871052017 |
Wheat flour(Made in Japan), Salt