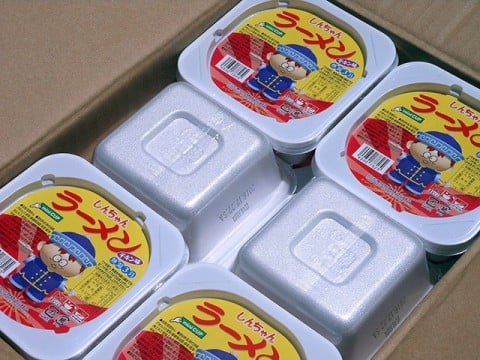 Size of Package L460mm x W320mm x H260mm / 3,600g
Size of Bowl L320mm x W230mm x H260mm / 1,800g
Size of Piece L110mm x W110mm x H50mm / 50g
This is our standard item which has our basic flavor.
Our product of mini-size cup noodle is the first in the world. Moreover, the distinctive taste of chiken base, soy sauce and spicy is orthodox.
| | |
| --- | --- |
| | 158kcal |
| | 3.4g |
| | 5.7g |
| | 23.0g |
| | 2.3g |
| | 0.7g |
| | 1.6g |
| | 35g |
| | 30×2 |
| | 150days |
| | 49307825 |
Fried noodle[Wheat flour(Made in Japan), Edible oil(Palm oil, Lard), Salt, Soy sauce, Meat extract, Vegetable extract, Saccharides, Fermented seasoning, Spice]/ Modified starch, Seasoning(Amino acid, etc.), Saltwater, Polysaccharide thickener, Acidulant, Antioxidant(Vitamin E), Caramel color,(Contains Wheat, Soybean, Chicken, Pork)