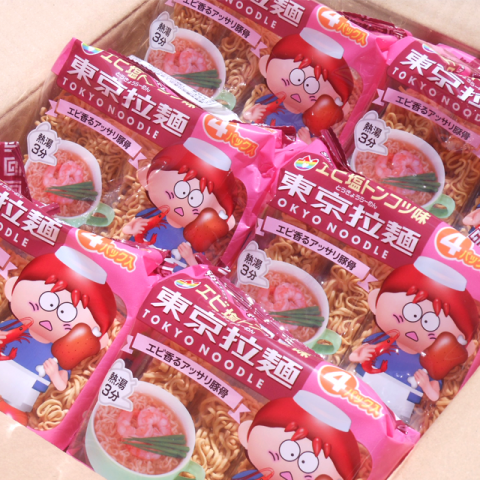 Size of Package L540mm x W430mm x H220mm / 6,640g
Size of Bowl L430mm x W265mm x H110mm / 1,660g
Size of Piece L120mm x W70mm x H100mm / 130g
Kyushu region is the home of Tonkotsu pork soup.
We challenged using this new taste and added flavor of shrimp too. Please try this excellent soup. You should be fond of this flavor.
| | |
| --- | --- |
| | 135kcal |
| | 2.8g |
| | 5.2g |
| | 19.3g |
| | 2.0 g |
| | 120(30g×4pcs) |
| | 12入×4 |
| | 180days |
| | 4906871020153 |
Standard Nutritional List(1meal 30g)
Fried noodle[Wheat flour(Made in Japan), Edible oil(Palm oil, Lard, Rapeseed oil), Salt, Meat extract, Sugar, Seafood extract, Spice, Shrimp extract, Soy sauce], / Modified starch, Seasoning(Amino acid, etc.), Saltwater, Polysaccharide thickener, Alcohol, Acidulant, Antioxidant(Vitamin E), Caramel Color (Contains Shrimp, Wheat, Soybean, Chicken, Pork)